1129 JACKSON AVE. CONDOMINIUM BUDGET ANALYSIS



1. HISTORICAL DATA CONDOMINIUM EXPENSES PAID IN PRIOR YEARS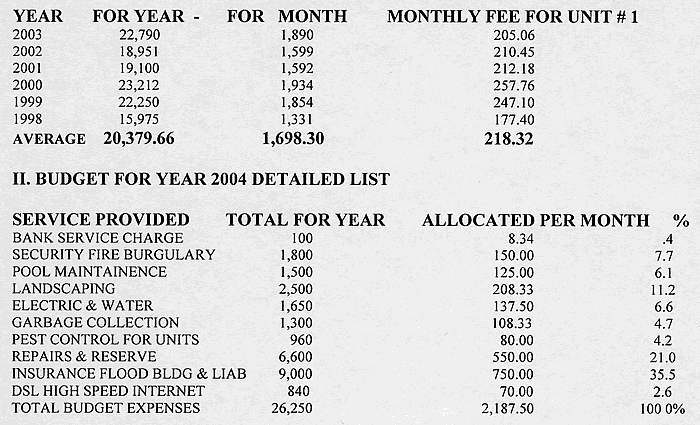 *NOTE ABOVE DOES NOT INCLUDE ANY MANAGEMENT FEE. IT ALSO DOES NOT INCLUDE ANY INCOME RECEIVED BY THE CONDO ASSOCIATION FOR THE RENTAL OF ANY OF THE SIX UNASSIGNED PARKING SPACES.


III. YEAR 2004 ALLOCATION OF EXPENSES & INCOME TO UNITS


*NOTE EACH CONDO OWNER HAS ONE PARKING PLACE. AN ADDITIONAL SPACE CAN BE RENTED FROM CONDO ASSOCIATION FOR $50.00 PER MONTH PER SPACE (6 AVAILABLE SPACES)



| | | |
| --- | --- | --- |
| UNIT ONE | TOTAL YEAR | TOTAL MONTHLY |
| | | |
| OWNERS FEE FOR ABOVE BUDGET | 3,006.72 | 250.56 |



IV. OWNER'S INTEREST IN CONDOMINIUM BANK ACCOUNT
THE CONDOMINIUM BANK ACCOUNT INCLUDES A REQIUIRED PAID IN BALANCE OF THREE MONTHS TOTAL MONTHLY BUDGETED FEES FROM EACH OWNER. EACH NEW OWNER WILL BE REQUIRED AT THE DATE OF SALE TO PAY INTO THE CONDOMINIUM ACCOUNT AN AMOUNT EQUAL TO 3 MONTHS OF HIS OR HERS PROPRTIONATE CONDOMINIUM FEE FOR THE CURRENT YEAR. A SELLING OWNER WILL BE ENTITLED TO WITHDRAW THE AMOUNT REPRESENTING HIS OR HER 3 MONTHS BUDGETED FEES AT THE TIME OF ORIGINAL PURCHASE.
Veraltete PHP-Version im Einsatz
Der Seiteninhaber muss die Version auf mindestens 7.3 erhöhen.